M series Figure "S" Internal Vane Full Cone - Maximum Free Passage
Download Catalogue - M_series.pdf

FULL CONE SPRAY

Full Cone spray at 500 frames per second

Maximum Free Passage with "S" internal vanes

Size : 3/8" to 6 inch BSP, NPT, flange

Spray angle : 30°, 60°, 90° and 120° Full Cone

Material : Brass, 316SS, PVC, PP, PTFE

Smooth "S" vortex flow for fluids with suspended particles and viscous flow, allowing maximum free passage through its orifice.
PTFE (Teflon) and PLASTIC Series Full Cone
Plastic Full Cone - Type NC Designed to deliver large volumes at low pressure while still maintaining spray pattern and liquid distribution. Connection: 3/4 inch to 12 inch NPT, BSPT or Flange
Spray angles: 60°, 90°, 110°, 120° Full Cone, Material: PVC, PP or Teflon DOWNLOAD CAT - NC.pdf , - NC Flange.pdf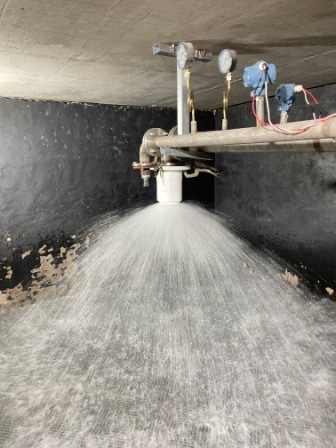 \
6 inch Flange PTFE (Teflon) 120 degrees Full cone spray
R Series "X" Internal Vane Full Cone - Large Flow
R Series (clog resistant – Full Cone Spray)

Designed with an integrated 'X' shape vane, they offer the largest free passage available in the full cone nozzle range. Ideal for handling dirty or re-circulated liquids or foreign matter, or wherever there is danger of the nozzle clogging.

Applications - gas scrubbers, cooling, washing, re-circulated liquids with large solids.

Low maintenance, durable and long lasting.

Connection: 2 inch to 6 inch BSP or NPT or Flange

Spray angles: 50°, 65°, 85°, 95° and 110° Full Cone
Material: Brass, 316 Stainless Steel Download Catalogue : R SERIES.Lpm.pdf
W series with internal X vane Full Cone

These nozzles have an internal vane with two precision machined opposing grooves to produce a low flow fine spray

Applications: dust suppression in coal mines, cooling and scrubbing of air and gas, de-superheating steam, spray drying.

Connection: 1/8" to 2" BSP or NPT
Spray angles: 30°, 60°, 90° and 120°
Material: Brass, 316 Stainless Steel, PVC, PP, PTFE

Download

Catalogue -

W_Series.pdf
Tangential Full Cone - Wz series
Self contained with 41 liter water container, driven by single phase electric motor discharging 8 liter/min @100bar through seamless stainless steel tubing with four (4) qty 1/8W1/4 - 30 degrees full cone inter-connected by compression fittings for mobile on-site wash applications.
Download Nozzle Catalogue - W_Series.pdf